I've not managed to get on the blog much with it being half term but I thought I'd pop on to do a Halloween Wicked Wednesdays.
Here is my daughter 3 years ago on her first Halloween.
So scary she scared herself!
Ok maybe not. She just wasn't in a very happy mood that night. A novelty singing Halloween dog did the trick of cheering her up though.
This photo makes me come across as a cruel mummy forcing my baby into a costume she was not happy with, complete with mess in the background. Bloody awful. Definitely a Wicked Wednesdays contender.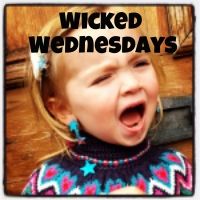 If you'd like to join in just click on the pic above and it will send you on over to the lovely Brummymummyof2.